Super Mario Maker is a Wii U game in which players are able to play and create custom levels based on games in the Super Mario series. The game received several updates after its release, adding features and costumes for players to incorporate into their levels.
Gameplay
While playing a level, the game is a platformer, with gameplay modeled after one of four games in the Super Mario Bros. series: Super Mario Bros., Super Mario Bros. 3, Super Mario World, or New Super Mario Bros. U. Each game theme includes power-ups and features that were specific to that game, such as the Super Leaf in Super Mario Bros. 3 or the Propeller Mushroom in New Super Mario Bros. U. For the Super Mario Bros. game theme, this item is the Mystery Mushroom, which will grant the player a costume based on one of several characters and objects, including characters from other Nintendo games.
The player would have to unlock each costume in order to use them in their own levels, and they could do this by scanning in an amiibo of a character or by playing the 100 Mario Challenge mode. In this mode, the player plays a series of user-made levels, attempting to clear them all with 100 lives to start.
Balloon Fight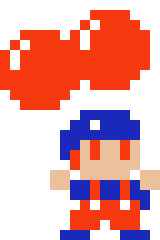 On March 9th, 2016, the game's 1.40 update released, which featured many new costumes which the player could unlock by playing the 100 Mario Challenge mode. By playing this mode on Normal difficulty or higher, the player has a chance of unlocking a costume of the Balloon Fighter. This costume is number 133, and the game of origin is stated to be Balloon Fight, despite first appearing in Vs. Balloon Fight. In Japanese, the Balloon Fighter costume is named "主人公," (Shujinkō) which simply translates to "main character." There is also no mention of Vs. Balloon Fight in the Japanese version either.