We're Getting Mutants in the MCU - The Loop
Play Sound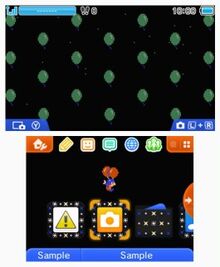 "NES: Balloon Fighter" is a 3DS theme which features the Balloon Fighter and other Balloon Fight sprites. It was released on August 3rd 2015 in Japan.
Background
The top screen scrolls, and only shows stars and Balloons in a repetitive pattern. The lower screen shows an animated sprite of the Balloon Fighter flying. The animation plays at the speed that the user scrolls.
Sound
The music that plays in the home menu is the Balloon Trip or Bonus Stage music from the original game. When the Balloon Fighter's hand goes fully up in the animation, a Balloon popping sound plays. Upon awakening the system from sleep, the "new life" jingle plays. Selecting options in various menus plays the Giant Bubble pop jingle. Opening an application plays the Balloon Bird defeat jingle.
Icons
Application borders and folder icons are black with Sparks. Insides of folders are black. The back button in folders, the bottom menu buttons, screenshot tab, and the photo tab are blue. The Home Menu settings button, icon size buttons, and scroll buttons are orange. All text is white, and the selection highlight is orange.
The coloration and design of the is very reminiscent of the game, as the black background matches the black background in-game, and all of the UI that is on the bottom of the screen is blue to represent the water. However, the orange buttons elsewhere don't correlate exactly with any element of the game, as the only instance of orange in-game is the title screen, though the logo uses a more yellow color, which is closer to the color used on the menu cursor in the theme. Although it's not possible to confirm, it seems as though this may be in reference to the Balloon Fight Wiki's coloration. It may be that it is taken from the color of the Balloon Fish.
Price
US: $1.99
UK: £1.79
Europe: €1,99
Japan: 200¥
External Links