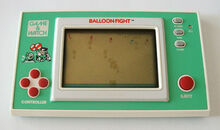 The Game & Watch was a line of handheld LCD game systems made by Nintendo, originally designed by Gunpei Yokoi. The first game in the line was Ball in 1980. At first, the systems were sold in Japan, but then expanded to other markets, occasionally under other names, such as Tricotronic or Time Out.
During the lifetime of the Game Boy line of systems, several compilations of Game & Watch games were released under the name Game & Watch Gallery. The Game & Watch brand is being partially revived in 2020 through a new Game & Watch-styled system with Super Mario Bros. installed on it as part of celebration for the 35th anniversary of the Super Mario Bros. series.
Games
Soon after the release of the NES, a small number of NES games received Game & Watch adaptations. This included Super Mario Bros., Climber, and Balloon Fight under the Crystal Screen series, featuring transparent screens. Each of these games were later rereleased under the New Wide Screen series.