Jurassic World: Dominion Dominates Fandom Wikis - The Loop
Play Sound
Daigasso! Band Brothers is a rhythm game made by Nintendo as a launch title for the DS. It is the first entry in the Jam with the Band series, followed by both Daigasso! Band Brothers DX and Jam with the Band, also on the DS.
Gameplay
The game comes with 35 songs, which can be played either in a single player mode or with multiple players. When playing a song, the player controls a single instrument in the song, and must time their inputs to match the prompts.
Availability
This game was only released in Japan, although Nintendo had planned to localize it under the name "Jam with the Band." However, while this game never released in North America, the sequel to the game known as Daigasso! Band Brothers DX was released in Europe as Jam with the Band, featuring songs from the first game.
Balloon Fight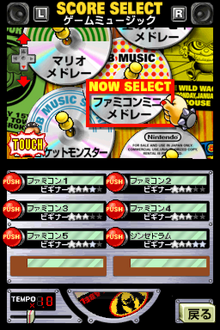 In the Game Music section, one of the songs which is unlocked from the start is the Famicom Mini Medley, which contains snippets of songs from several games on the Famicom, all of which being games which were featured in the Famicom Mini line of games on the Game Boy Advance. The second song in this medley is the Bonus Stage and Balloon Trip theme from Balloon Fight. This song was later available also in the European release of Jam with the Band, where it was called the NES Medley.