Jurassic World: Dominion Dominates Fandom Wikis - The Loop
Play Sound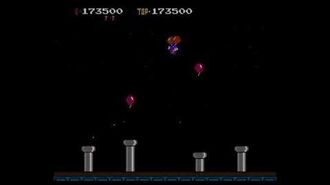 Balloon Fight for the NES was ported to the Wii as part of the Virtual Console service. It was available on the Wii Shop Channel for 5000 points ($5 USD).
Differences
Since this port is a direct emulation the original game, there are minimal differences. The player can use a variety of controllers to play the game, including the Wii Remote on its own, or with any Classic Controller connected to the bottom port. The 2-Player Game is supported, as the player can simply connect a second controller for the second player.
At any time, the player can press the home button on their controller to bring up the typical WiiWare HOME Menu, with the options to either return to the Wii Menu, Reset the game, check the Operations Guide, or manage the controllers. By returning to the home menu, the game will automatically create a restore point, and the next time the player starts the game, they will begin where they left off. When returning to the game with a restore point, the HOME Menu will pop up after the game loads, allowing the player to choose when they are ready to begin playing.
Trivia
This game was featured as part of a challenge on the show Game Center CX, and the episode when this was played featured Satoru Iwata as a guest. In the episode, both the show's host and Iwata played Balloon Trip mode and attempted to get 20 Balloons in a row.
If this game was transferred up to or bought on the Wii Menu of a Wii U, then the Wii U Virtual Console version of Balloon Fight could be bought for one dollar.