Jurassic World: Dominion Dominates Fandom Wikis - The Loop
Play Sound
Balloon Fight was rereleased for the 3DS Virtual Console alongside many other NES games. This game can still be purchased on the Nintendo 3DS eShop for 4.99$ USD or 514 Yen.
Features
As with most other Virtual Console games on the 3DS, the player can use Restore Points, essentially allowing you to "bookmark" a moment in the game. Loading from a Restore Point will overwrite your current game, and only one Restore Point can be stored at a time.
Like many other 3DS Virtual Console games, there were dedicated communities for this game on Miiverse prior to its shutdown in 2017. Players of both the 3DS and Wii U versions of this game could post screenshots, drawings, and text.
Balloon Fight is also one of the few Virtual Console games which support Download Play. With this, two players with two systems can play together using only one copy of the game, as the other player gets to download a temporary version of the game for the duration of the session.
Ambassador Program
On August 31st, 2011, this game, along with a handful of other NES and Game Boy Advance games, were given for free to players who bought their 3DS before the system's price was reduced. This initial version of the game lacked download play, but that feature was added later on through a free update. Along with the free games, the players were also given an "Ambassador Certificate" application, which when opened simply played a video and allowed the player to opt in to updates regarding the program.
Glitches
Palette glitch:
This glitch applies to the Nintendo 3DS Virtual Console release of the game and causes Clouds and Pipes (and theoretically anything that shares the same original (gray) colors) to become red in color.
1. Play the game up to a Bonus Stage
2. Select "Reset" on the Touch Screen's Virtual Console menu while points are being tallied
3. Clouds and Pipes will become red in color.
This glitch has been confirmed to work on the US and European versions, but appears to be fixed in the Japan version. Also, if the glitch is active when the player starts download play, player one will still see the glitch, although player two will not. Quitting through the home menu and opening the game again, the glitch will appear while the VC menu is still open, but it will go back to normal after it closes.
This glitch was documented by Bluestone19.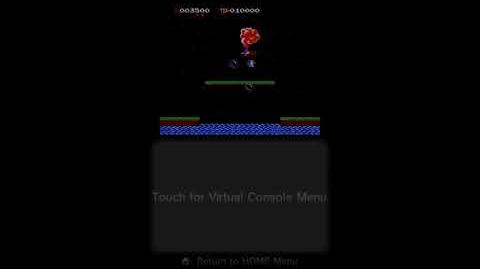 Gallery
External Links
eShop page (Nintendo.com)